Shocking, right? We had a news based pump that is flagging and hasn't dumped yet? Someone pinch me, please! Ok, fine… I fully expect to wake up to a "full retrace" back down to 230 because some "bearwhale" feels like having a bull steak dinner (probably not grass fed though), or maybe the BFX longs will slowly capitulate.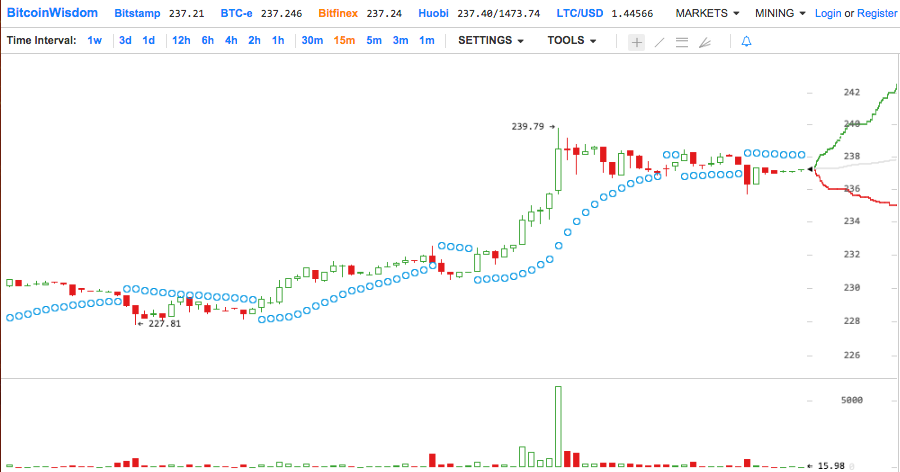 BFX chart as of 9PM EST, 15m shown.  Where are the hopeium traders today losing their shit while high on margin?
At the time of the time of the 5k volume bar on the 15m BFX chart shown above, we also see around a 2k BTC decrease in swaps, presumably a short closing.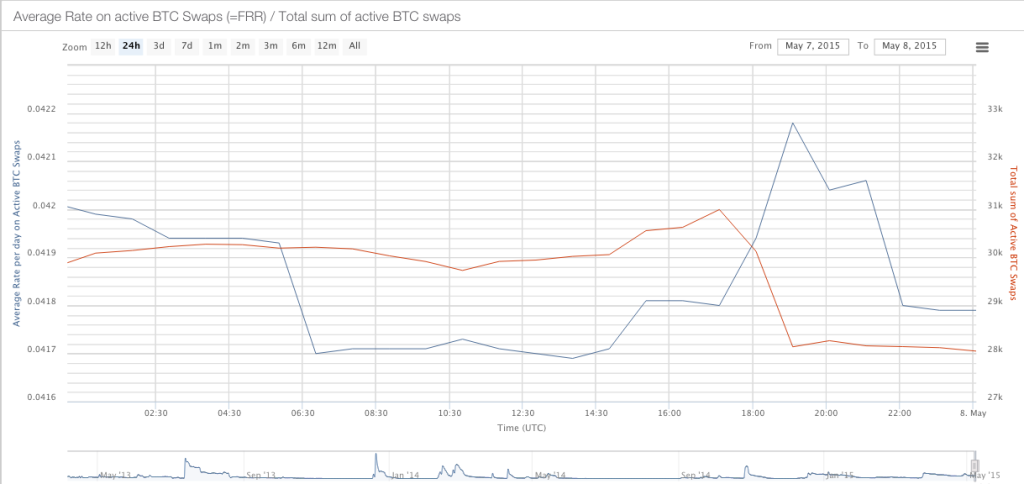 The BFX Dreamers (as we call them, the idiotic traders that have been going margin long nonstop since… maybe December 2013?) would be expected to FOMO and Low Pro long at this point, but strangely, we see a sizable decrease in USD swaps during the corresponding time period. Could they be smartening up? Unlikely (because they are so fucking persistent), but maybe there is some new money coming into the ecosystem that is finally lightening their bags. It wouldn't be surprising with all of the mainstream news surrounding Bitcoin.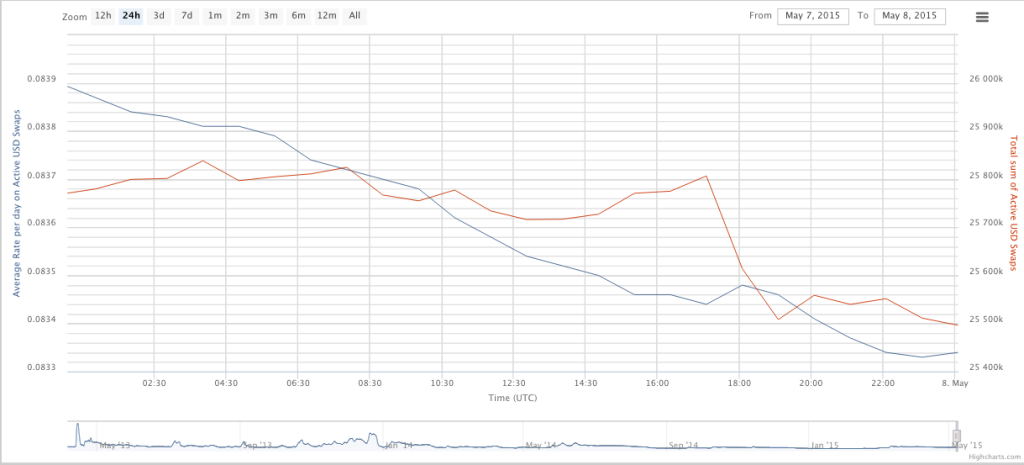 Looking at a longer term chart of BFX USD swaps, they seem to be leveling out right now, possibly headed into decline.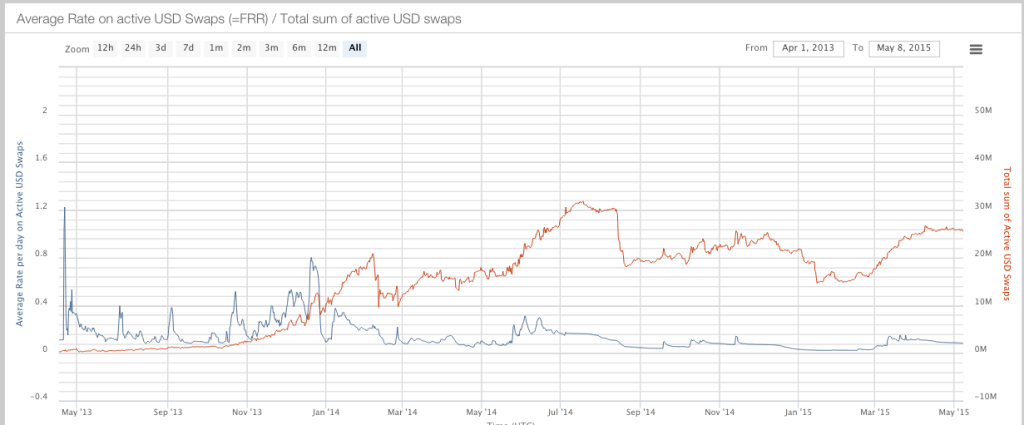 So, what is this in the headline of the article about itBit. They are a NYC based (with a Singapore headquarters as well) startup, which just received it's charter. They are the first Bitcoin exchange to do so. The best way for traders to view this news in our opinion is as as an iceberg bid order. Things could get real from here, or we could plunge back into bear winter (even in the Northern Hemisphere) and require another Fireside Chat from Barry.
For those of you that are behind, here is the itBit news from NYDFS, check it out here.
From the release:
In light of the demonstrated need for stronger oversight of virtual currency exchanges after the Mt. Gox collapse, NYDFS issued a March 2014 public order initiating a process for accepting licensing applications for virtual currency exchanges under the New York Banking Law. As previously noted in the NYDFS announcement of that order, those exchanges will ultimately be expected to meet the full requirements of the BitLicense regulatory framework as a condition of licensure. NYDFS expects to issue its final BitLicense regulations later this month.

ItBit applied to NYDFS for a charter under that process for virtual currency exchanges in February 2015. NYDFS conducted a rigorous review of that application, including, but not limited to, the company's anti-money laundering, capitalization, consumer protection, and cyber security standards. As a chartered limited purpose trust company with fiduciary powers under the Banking Law, itBit can begin operating immediately and is subject to ongoing supervision by the NYDFS. ItBit will also be required to meet the obligations for operating a trust company under New York law, as well as those under the final BitLicense regulations.
The news from itBit can be found here.
New York – May 7, 2015 – Global bitcoin exchange itBit today announced it is available to all U.S. retail and institutional bitcoin traders and will begin accepting U.S. customers immediately. Through a trust company charter, granted by the New York State Department of Financial Services (NYDFS), itBit has established the itBit Trust Company, organized under New York State banking law. This makes itBit the only U.S.-chartered and supervised bitcoin exchange able to offer unique protection and security for customers in full compliance with New York and federal law.

With oversight from the NYDFS, the itBit Trust Company provides unparalleled security and protection for all client deposits and assets. All client deposits and assets, including both bitcoin and fiat currency, are held for customers in secure custodial accounts in order to ensure the safe return of customer balances. In order to provide further heightened protection, itBit has partnered with an FDIC-insured and regulated U.S. banking institution to provide assurances to all U.S. clients that their fiat balances are held in the U.S. and with the benefit of FDIC-insurance (up to $250,000 per account).
Excellent news all around, we congratulate itBit and the NYDFS for working together and reaching a reasonable agreement! itBit also announced the closure of a $25m series A funding round.
Why is a charter so important? Simply (from Investopedia):
DEFINITION of 'Chartered Bank'

A financial institution whose primary roles are to accept and safeguard monetary deposits from individuals and organizations, and to lend money out. The details vary from country to country, but usually a chartered bank in operation has obtained government permission on some level to do business in the banking sector.

INVESTOPEDIA EXPLAINS 'Chartered Bank'

Chartered banks provide the core financial intermediary services necessary in today's economy; individuals can easily deposit their funds into various types of accounts within a chartered bank, earning interest on their temporary savings. Chartered banks maintain a float of currency so they can process customers' daily transactions, but they lend out the majority of their deposits to individuals and commercial borrowers in an effort to stimulate economic growth.
More from the Federal Reserve.
The proposed bank must first receive approval for a federal or state charter. The Office of the Comptroller of the Currency (OCC) has exclusive authority to issue a federal or "national bank" charter, while any state (and the District of Columbia, Guam, Puerto Rico, and the Virgin Islands) may issue a state charter. Before granting a charter, the OCC or state must be able to determine that the applicant bank has a reasonable chance for success and will operate in a safe and sound manner. Next, the proposed bank must obtain approval for deposit insurance from the Federal Deposit Insurance Corporation (FDIC). Additional approvals are required from the Federal Reserve if, at formation, a company would control the new bank and/or a state-chartered bank would become a member of the Federal Reserve.
All insured banks must comply with the capital adequacy guidelines of their primary federal regulator (Federal Reserve, FDIC, or OCC). The guidelines require a bank to demonstrate that it will have enough capital to support its risk profile, operations, and future growth even in the event of unexpected losses. Newly established banks are generally subject to additional criteria that remain in place until the bank's operations become well-established and profitable.
More information on The OCC here.
Video of itBit CEO on CNBC here.
In all, this charter is a much bigger deal than most realized at first. Is it enough to hold off a massive, over-leveraged bull dump? Only time will tell.
Interesting segment on Boom Bust today regarding bank charters, starts at 13:41 (click for video).
Thanks to Arthur at BitMEX for the shout out in today's blog post. If you aren't a BitMEX customer, we recommend registering and checking them out.