The Swedish Bitcoin ETN launched today on the Nasdaq OMX Nordic market. This ETN tracks the price of Bitcoin via 3 exchange quotes, and each unit/share is equal to .005 BTC. Shares are quoted in SEK though (Swedish Krona), even though the prices are derived in other currencies from the Bitcoin exchanges.
The Bitcoin Tracker One Prospectus can be found here.

View the Nasdaq OMX page for Bitcoin Tracker One here.
Two interesting things to note:
1) Bitcoin Tracker One was the 8th most traded ETN on the exchange today.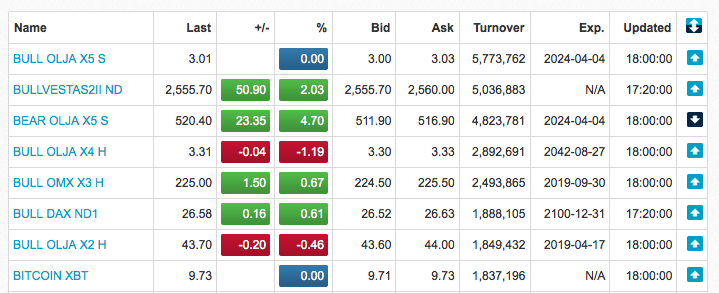 2) It is stated in the Prospectus that Bitcoin Tracker One will be applying to be listed on the Norwegian and Finnish markets. This would be a great step in the right direction, and would presumably give one of the worlds largest sovereign wealth funds easy access to Bitcoin.
Back on this side of the Atlantic, on the US Nasdaq OTCQX, GBTC has been significantly closing the spread between it's trading price and the spot market.

We look forward to seeing the continued trading of these two instruments, it's good to see Bitcoin finally being accepted into the mainstream.