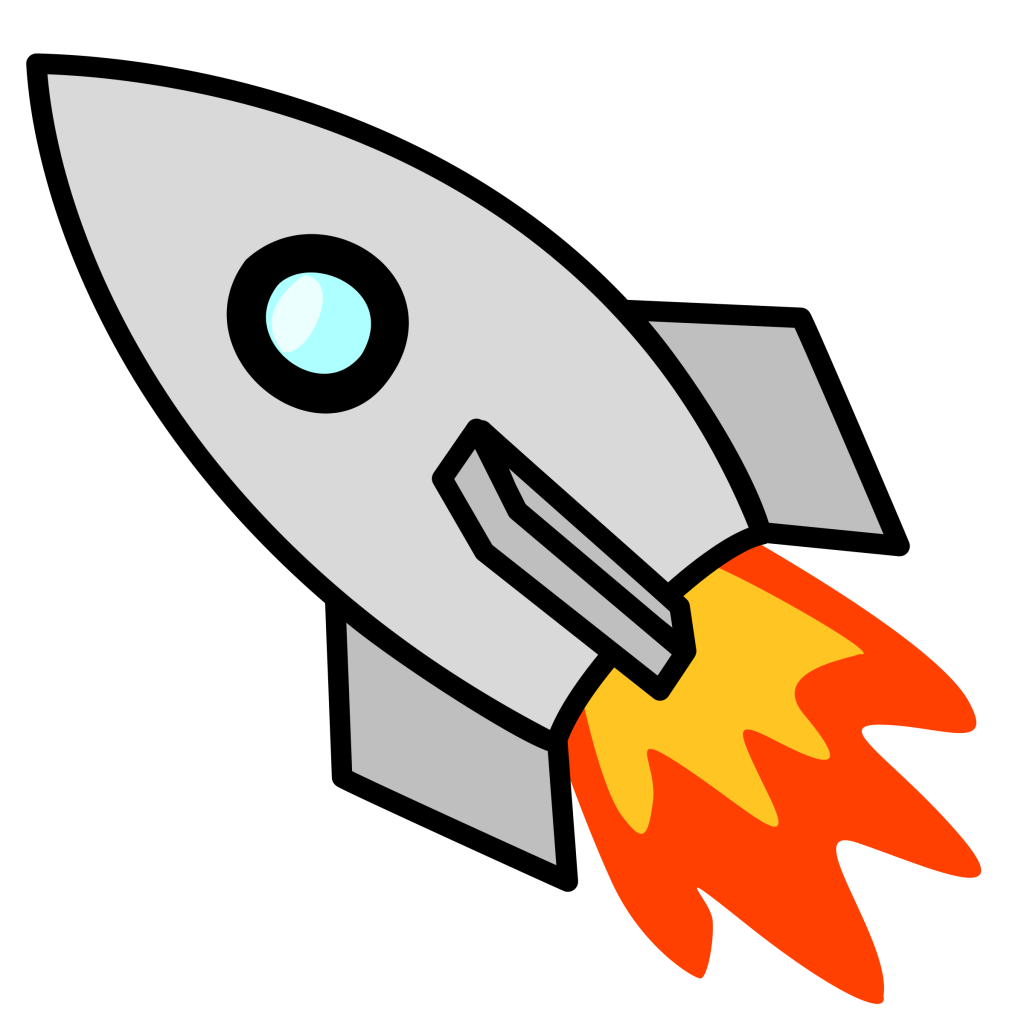 While it's no secret that the world has been starting to see the light with "blockchain", it has been pretty obvious from the multiple attempts by the msm to cover bitcoin already that this is going to take a while. Everyone else has their training wheels on, but for those of us who scoured bitcointalk years ago, got burned buy not selling AM shares near the ath and even those who have been around as recently as the Gox implosion, we don't need to hear any more about miners solving complex math problems. We get it, and get where this is going. There is no blockchain without bitcoin, and once the sheep finally catch on to that, they still need to learn about alt coins, side chains, etc.
The point being, it's going to be a while before the mainstream hears about, or cares to hear about something like XCP (Counterparty) (that's cool though, we won't mind selling to them). So, if this is the case, why has such as obscure corner of the digital cryptocurrency playpen been receiving massive attention from high profile Wall Street players and a significant amount of investment capital? Duh, it's the future. Among many other initiatives in the space, SWIFT has a call for proposals out which is looking for information on blockchain securities settlement.
Just to cover this again. In plain English. Counterparty, and decentralized asset settlement in general, will become a backbone of the new financial system currently being built/deployed.
For a refresher, let's visit Bloomberg:
Some Financial Heavyweights Just Invested in a Trading Platform Linked to Bitcoin

Symbiont, which plans to use bitcoin's underlying technology to make it quicker and cheaper to transfer assets between buyers and sellers, has won the backing of several financial industry heavyweights.

The company, according to a statement Tuesday, has raised $1.25 million from a group including former New York Stock Exchange chief Duncan Niederauer, former Citadel LLC executive Matt Andresen, and two co-founders of high-frequency trading firm Getco LLC, Dan Tierney and Stephen Schuler.
A few weeks ago, we discussed the possibility to Front Run The XCP Pump. Here we are, a few weeks later, in the midst of what we at shitco.in believe to be the first leg of a major XCP pump (to continue on announcement of Series A funding). In our last XCP piece, we outlined that there would be a Series A round of funding coming in Q3 this year. Fast forward until last week, and Symbiont just received another round of funding from two more VC firms.
From PR Newswire:
Atlantic Merchant Capital Investors, LLC announced today that it has made an investment in conjunction with Celeridem Capital Management, LLC into Symbiont.io, Inc.

…

"The team at Symbiont is enthusiastic about our new capital partnership with Celeridem and Atlantic," said Mark Smith.  "The capital they and other investors have provided will allow us to deliver production technology and clear the way to a Series A round later this year.  We are also excited about the opportunity to work with Shiv Govindan and Jeff Hunt [principal at Atlantic].  They bring more than capital to the table."

Symbiont expects to issue the securities associated with this funding via its proprietary blockchain technology.
Most people only read headlines, and few will actually read an entire article or press release because, ADD. That part in bold up above is something that all investors should be paying close attention to. This latest round of fundraising (for an unspecified amount) is just leading up to their Series A.
Another interesting piece of information from Tampa Bay Business Journal:
Symbiont's board now includes SenaHill Partners founder and former Goldman Sachs (NYSE: GS) global head of REDI product development Neil DeSena as well as Duncan Niederauer, former CEO of the New York Stock Exchange.
Can you get any more bullish than this? These guys literally live and breathe for money, and not only are they investing in, but are now on the board of Symbiont. Remember guys, the people who founded Symbiont are the same team that created Counterparty (XCP). While they have openly stated they are going to be working with many different solutions, we think that they are probably going to have the best results with the one they are most familiar with, the one they built.
Chart of the price action around both of the last investments can be found below.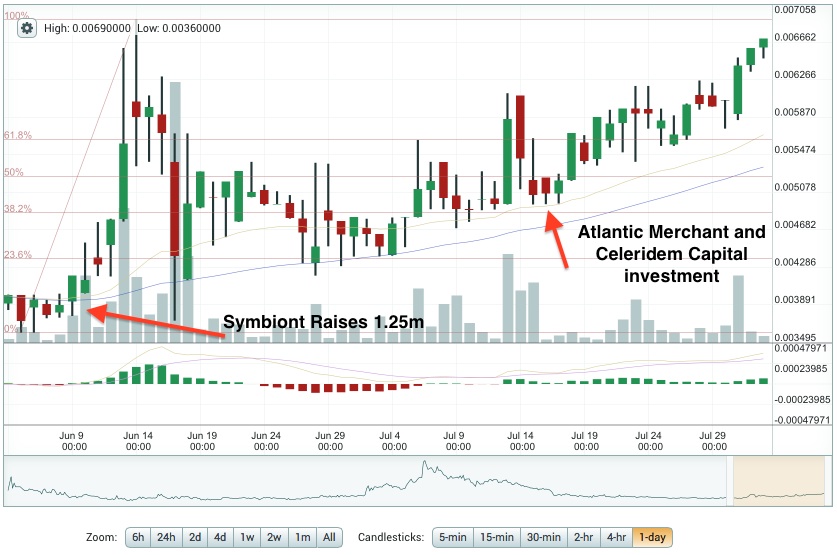 With their Series A coming up, what else have the Symbiont/Counterparty guys been up to?
Everyone was focusing on Blythe Master's linguistic performances at the American Banker Conference, but few took the time to realize that the Symbiont team was heavily represented as well.
Bitcoin addresses with XCP have been on a steady rise since inception, and show no signs of slowing down.

Deloitte is exploring Counterparty:
Professional services firm Deloitte has revealed it is seeking to use blockchain technology to automate client auditing and crowdsource its consulting efforts, among other applications.

…

Piscini indicated that these clients are currently exploring different protocols built on top of bitcoin, including Blockstream, Counterparty and Factom. A key question that persists for many is whether to partner with these firms or build a private blockchain.

…

As for its own projects, Piscini said Deloitte hasn't determined one specific working thesis for the technology, suggesting the firm is willing to select the blockchain best for its specific use cases.

"Our point of view, is 'Let's find use cases, where you can generate more revenue, generate a different customer experience or cut your costs.' Then we can find the technology stack to address them," he said.

…

So far, Deloitte has launched Rubix, a software platform that allows its clients to build applications on top of blockchain infrastructure.

The official website for the service lists four areas of interest, including reconsolidation between trading partners, real-time auditing, land registry and loyalty points. Internally, the company is focused on automating some of its auditing processing via a solution currently in stealth.

…

"On the consulting side, I think we'll see the ecosystem adapt and change and move toward blockchain-based solutions," he continued. "The potential for us is around the ability to source consulting services through a P2P crowdsourcing platform. Instead of saying, 'Deloitte help us with that strategy', you can request that service on the blockchain and the blockchain would match you with the right individuals to do that."

…

Over time, Piscini said he sees the blockchain becoming a foundational layer for asset transfer, smart contracts and voting, but that different blockchains may be created that specialize in each of these use cases. He also suggested that he sees cryptocurrencies such as bitcoin will likely continue to play a role in the management of blockchains.
Although they are working with multiple possible solutions, we all know that Counterparty was the first working protocol. We also know that this gibberish about private blockchains is just them trying to borrow the bitcoin source code because it's open source, pissed off they didn't invent it themselves. Save yourselves some time and money guys, its not worth it.
There was a Counterparty update on July 24th, further cementing the point that Symbiont would be using XCP:
Over the last year and a half, Counterparty has evolved into the most advanced platform for creating financial instruments on top of Bitcoin, used by an increasing number of innovative projects. During the last couple of months, our goal was to wrap up the large scale improvements to the Counterparty software suite, complete comprehensive security audits, and once the protocol reaches a mature state start focusing on and building tools and services around it. Symbiont is a step in that direction, developing products that will be utilizing this technology, and we're very excited to see it be put into use in systems that power modern finance.
Some interesting projects on bitcointalk/GitHub.
An interesting Reddit post, in which this comment stands out the most:
HFT is often about taking advantage of arbitrage opportunities and moving enough stocks to get fee discounts, so that money can be made even on small changes in price. The stock market is a network of connected stock exchanges etc. Nowadays this is all existing in the realm of highly regulated, centralized operations. In the future I'm confident that stocks will be tokenized either ontop of existing blockading such as counterparty on Bitcoin or on separate blockchains using technologies such as Peershares (/r/peershares) because its just so much more powerful. http://www.coindesk.com/smart-contracts-platform-symbiont-raises-1-25-million/ the question: "why would a company that is making money on inefficient stock markets invest in the next gen stock market? " my guess would be that they are fully aware of what is about to happen. What is the difference between a stock IPO, VC investing in a startup and say Kickstarta? Save for the juridical differences there is a lot of differences, but that's about to change as social communities and Bitcoin tech is about to merge. There are already several examples: Nubits, Etherium, Counterparty that is giving a glimpse of what is about to happen. This Bitcoin stuff doesn't ask for permission and the killer app is the many ways in which it will creep into every aspect of our lives.
Last, but not least, this SEC filing which shows Symbiont sold 1.235 million in debt starting on June 30, 2015.

For those of you unfamiliar with Form D:
Form D is a form to be used to file a notice of an exempt offering of securities with the Securities and Exchange Commission. Commission rules require the notice to be filed by companies and funds that have sold securities without registration under the Securities Act of 1933 in an offering based on a claim of exemption under Rule 504, 505 or 506 of Regulation D or Section 4(5) of that statute. Commission rules further require the notice to be filed within 15 days after the first sale of securities in the offering. For this purpose, the date of first sale is the date on which the first investor is irrevocably contractually committed to invest. If the due date falls on a Saturday, Sunday or holiday, it is moved to the next business day. The SEC does not charge any filing fee for a Form D notice or amendment.
All of you that are reading this blog can see the impact that "blockchain" is going to have on the traditional world of finance. If we didn't, we clearly wouldn't be involved in this absolutely insane world of bitcoin day in and day out. Each of these new protocols (except Etherium) relies on the bitcoin blockchain and a small token of btc to carry out each transaction. Naturally, this will slowly create a demand for btc and create more upward pressure on the price. At this point, it is safe to say that all major banks who have stated they are exploring blockchain technology are holding bitcoin (they couldn't run their tests without it), which itself is a major milestone for the technology.
As we saw with the msm coverage of the NYSE outage a few weeks ago, the sheep are still being herded and misdirected. Nanex compiled this excellent report which is a must read. The ex-CEO of the NYSE investing into Symbiont during times like these is just too perfectly timed for us to believe it's purely coincidence.
Interesting times we live in.
As earlier stated, we have been long XCP from the bottom and plan on selling some once the rocket takes off. Obviously we are also holding some as a long term investment.